Brothers and Sisters,
Below is info on the 2018 Labor Day Parade. It falls on the First Platoon's work day, but if anyone off duty would like to attend it is a great time and an awesome event to be a part of!! Go out and show support for all of the Labor leaders from the past and for all of those that are on duty across the state and can't attend. I look forward to seeing some Local 741 members showing our pride!!
Fraternally,
Brother Jankowski

LABOR DAY PARADE - SEPTEMBER 3, 2018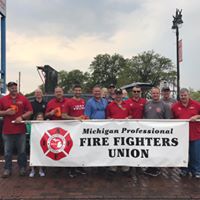 Please join us at this yearss Labor Day Parade in Detroit. Our participation continues to grow each year but we need your support and participation.
Bring other members of your local and your family members (including children). It's free. Limited beverages provided by MPFFU.
Arrive early enough to park and locate the MPFFU Banner somewhere between Slows BBQ and Rosa Parks Blvd. Click here for the map.